Intercultural and digital in one person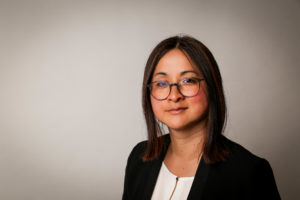 Diversity is not the problem, but a real opportunity in a digitized and thus diverse VUCA world. In this world degrees and certificates are one thing, a personal biography is another. I combine both topics in both areas: I grew up in Peru in a Japanese family, I learned early on in life what it is like to be different – but also how we can positively use this: ideally with curiosity! And so I have always followed my inner call for topics of change and innovation. That was and is my life theme because curiousness is my core value. And that's how I found my dream job: I support institutions in building up their international cooperation trustingly and effectively for the future.
And to do my vocation and a job in a highly professional manner, I have become a certified trainer, consultant, coach and (e-) moderator for intercultural and digital competencies. My focus is on virtual leadership, digital culture learning and international and virtual communication and collaboration. But no matter what topics I can help you with: my motto is always: "Emotion, identification and ability are the designers of change."
For your personal assessment: a few facts about me
I specialize in digital formats and F2F and use the following methods: Micro Training – Mobile Learning – EDU Scrum and Liberating Structures.

My country focus is Japan, Spain, Peru and Latin America

I studied communication sciences and media and education (M.A.) with a focus on online didactics in Germany and Peru and worked as a PR manager in an international training organization.

I have many years of management and leadership experience in the areas of communication and training of employees in international projects

As a lecturer in university education, I have worked at several Peruvian and German universities on the topics of media & Education, communication, marketing, intercultural management & negotiation, intercultural psychology and online learning

In my private life, I relax by dancing, improvising and photography as well as travelling with my husband.

I speak German, English and Spanish (as mother tongue) fluently

My favorite hashtags are: #remoteworking #people&culture #change #digitalculturelearning #interculturalvirtualwork #collaboration #networking #agileenthusiasts #WorkingOutLoudenthusiasts.
Your advantage? My capacity for observation and empathy.
My capacity for observation and empathy enables me to feel the needs of the participants in the training process and then benefit from my large pool of methods and creativity. In my training, the most important thing for me is to offer a secure framework for trying out the knowledge that participants have learned before, because this creates a real dynamic and effective transfer into practical experience. How do I convey my topics? With humour and provocation, but also with empathy and space for learning and reflection.
  Contact:
ilvy intercultural HR
Erika Shishido Lohmann
Lilienstraße 11
20095 Hamburg
Germany
Tel:  +49 (0) 40 2093 210 51
Mobil:  +49 (0) 170 20 14 374
Email: erika.shishido@interkulturelles-coaching-hamburg.de
P: www.interkulturelles-coaching-hamburg.de
Xing Profil
LinkedIN Profil
ILVY bei Facebook